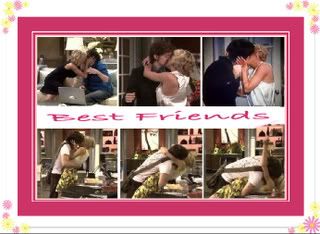 WOW! Spin rocked my socks with his Carpe Diem...seizing the initiative & whatever else he could get his hands on! YOU GO BOY!

I LOVED every second of SPIN ON MAXIE! I am sure the scene was supposed to appear Spinelli-awkward, but instead, IT WAS CUTE & HOT! Perhaps a little more Bradford Anderson came out to play in this Spinelli scene, and if I'm not mistaken...I think I saw a little grin on Kirsten Storms' face when Spin spun her around to seize the kiss.

Not that I have played the scene a few times/backward/slo mo/freeze frame or anything, but me thinks the Maximista kissed back!

Of course, I know tomorrow, it will all break bad, and Spixie will be down the drain hole AGAIN, but for one brief shining moment....SPIXIE WAS HOT & this Vixenella was once again in love with Spixie, best friends falling in love.